FÖNSTERSTÖD
An App for the IKEA Home Smart (TRÅDFRI) series, made for Windows
The FÖNSTERSTÖD application for Windows is a hobby project made by me, Stefan Thoolen, so I could drive my IKEA TRÅDFRI lights, and other IKEA Home Smart components, from my Windows PC. At this moment, most devices should work with this application. I haven't been able to test the support for IKEA blinds (FYRTUR/KADRILJ series) myself though.
Download now Report issue Changelog
Frequently Asked Questions
I'm a designer/developer, can I help?
Well, yes! All code is open source devided in a few repositories. Feel free to create pull requests towards those repositories.
I'm especially looking for a designer who would like to make a nice icon for this app, and, let's be honest, this webpage is not really finished just yet.
Do you work for IKEA?
No. I'm in no way affiliated with IKEA. I've paid for my own Home Smart products and have spent my own free time in building this app. I did this though, because I like the TRÅDFRI product line, but really wanted support for on my Windows 10 Tablet PC as well.
Does FÖNSTERSTÖD also support SYMFONISK speakers?
Not in the current version. I know how to communicate with the speakers though, so maybe in a future version this could be included. However, my personal need for this feature is not that big. By using the Sonos Desktop App, I already can manage my speakers in Windows.
There is no cookie warning nor a privacy policy on this page and in the app. Why?
I'm not a big fan of cookies (except for cookies with a layer of milk chocolate), and a big fan of privacy. I don't do any tracking. Only the amount of downloads is tracked on the Bitbucket download page, but I made this mainly for myself and everyone else that uses this is considered a bonus. So, there are no cookies and I won't track you.
Do people really ask these questions frequently?
No. "Frequently Asked Questions" sections are almost always made up by completely random questions ;-)
How does the application work?
You can download and run the installer. When installed, you can connect to the IKEA TRÅDFRI Gateway: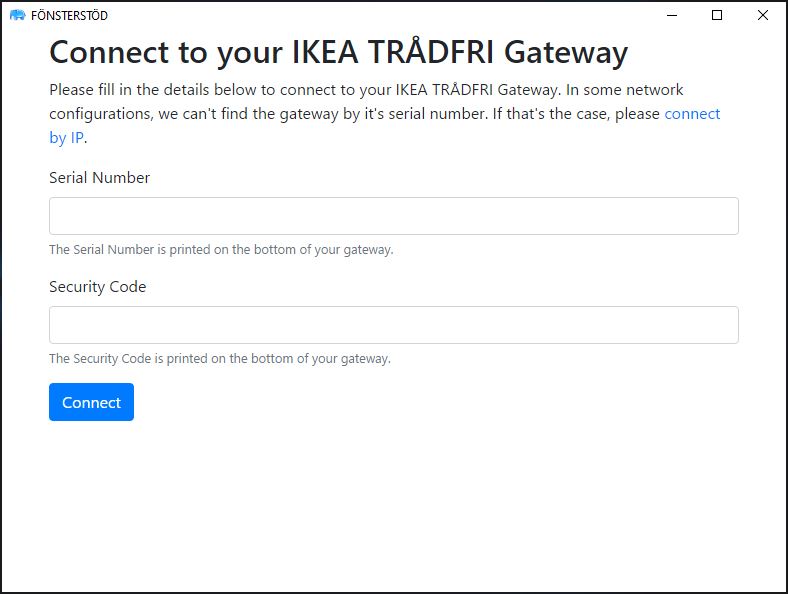 When connected, it's possible to turn on/off bulbs, set their colors, adjust their brightness, etcetera: